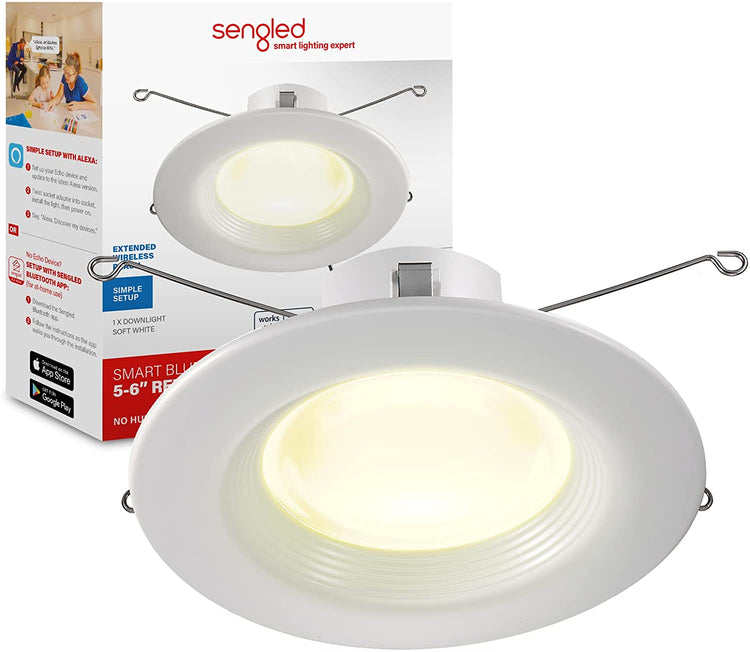 Sengled Smart Bluetooth Mesh LED Soft White 5-6" Retrofit Downlight
Get Started in Seconds: Easy installation in your existing 5- or 6-inch recessed can fixtures—simple setup with Amazon Alexa. Light comes with a standard E26 base that twists right into the socket, so there's no need for rewiring.
Discrete, Tight-Fitting Design: Integrated LED trim provides a tight seal with a seamless look that blends into the ceiling, bringing new life to old discolored fixtures.

Soft, Warm Bright Light: This soft white, 2700K retrofit downlight provides exceptional brightness (75W Equivalent/940 lumens), making it perfect for high ceilings or anywhere more light is desired. The light quality is bright, warm and brings out true colors (CRI of 90+), so it's ideal for kitchens, dining rooms, living rooms, bedrooms or anywhere bright accurate soft white lighting is desired.
Whole-Home Smart Lighting: Bluetooth Low Energy (BLE) Mesh 5.0 wireless technology allows for a farther reach. Each light serves as a signal repeater, so even if a Bluetooth light is out of reach from the Alexa Echo device, it can still be controlled.
Hands-Free Voice or App Control: Use voice commands or a mobile app to easily control the lights. Adjust brightness or colors, set schedules, create routines and more. Use with your compatible Amazon Echo device and the Alexa app. Don't have an Echo device? Download the Sengled Bluetooth Mesh app (local control only).