About Sengled
Sengled is a global leader in smart lighting. Since our first smart speaker bulb in 2012, Sengled's innovative approach keeps us at the forefront of the industry, pioneering new lighting styles and technologies that provide consumers with ease of use, versatility, and brilliance.

Headquartered in Buford, GA., Sengled integrates consumer electronics with energy-saving LED lighting, creating products that expand smart home functionality to every room. Our practical lighting solutions, using Zigbee, Wi-Fi, or Bluetooth Mesh connectivity, can be voice- or app-controlled with Alexa, Google Assistant, or Siri. A perennial CES Innovation Award winner, Sengled products can be purchased from the world's leading electronics retail stores and online. Discover more at us.sengled.com.
Our History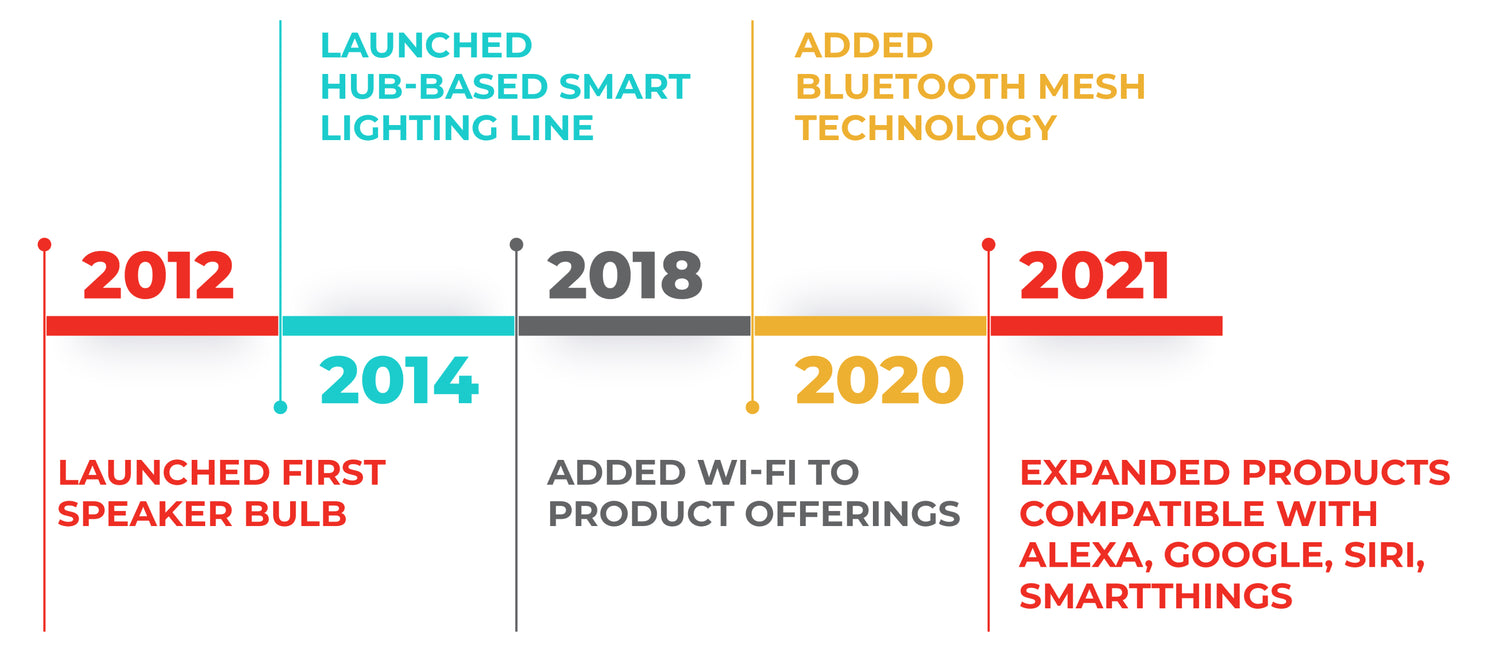 What Sets Us Apart
Smart Lighting Expert
As the smart lighting expert, Sengled values innovation, design, and craftsmanship. We believe the lightbulb can be continuously reinvented to make life better. Our products are meticulously crafted to ensure quality, and designed to be visually appealing, functional, and easy to use. Sengled bulbs look great and are built to last. Easy. Versatile. Brilliant.

Easy – Sengled works with our partners to ensure easy setup options for customers.
Versatile – Sengled offers consumers practical lighting choices across three technology platforms to meet individual needs.
Brilliant – Sengled focuses on details such as high lumens (brightness) and high CRI (Color Rendering Index) to give our customers a better lighting experience.

Technology
Leveraging leading technology, we integrate with popular smart home platforms, including Amazon Alexa, Google Assistant, Apple HomeKit, and Samsung SmartThings, and offer flexible connectivity options via Zigbee, Wi-Fi, or Bluetooth Mesh. Sengled smart lighting is easy to set-up, offers intuitive, convenient control and functionality, and is secured with end-to-end 256-bit encryption. In addition, utilizing the latest in lighting science, most of our products have a Color Rendering Index (CRI) of 90-plus, providing a high-quality light that brings out impactful, natural colors.

U.S.-Based Customer Support
We're here for you. Whether you're new to smart lighting or a seasoned pro, our customer service team, located in Georgia, is available to provide best-in-class support to answer your questions and help ensure a great lighting experience.

Industry Recognition
16 Innovation Awards, including CES recognition annually since 2015.
National media coverage, including Rolling Stone, Popular Science, Tom's Guide, NBC News, and others.

Patents
More than 1,100 global patents applied

Our People
Based in Alpharetta, GA., Sengled's employees are the backbone of everything we do. From our warehouse staff to customer service to administrative and professional services, we believe in hiring great people and empowering them to do their best.