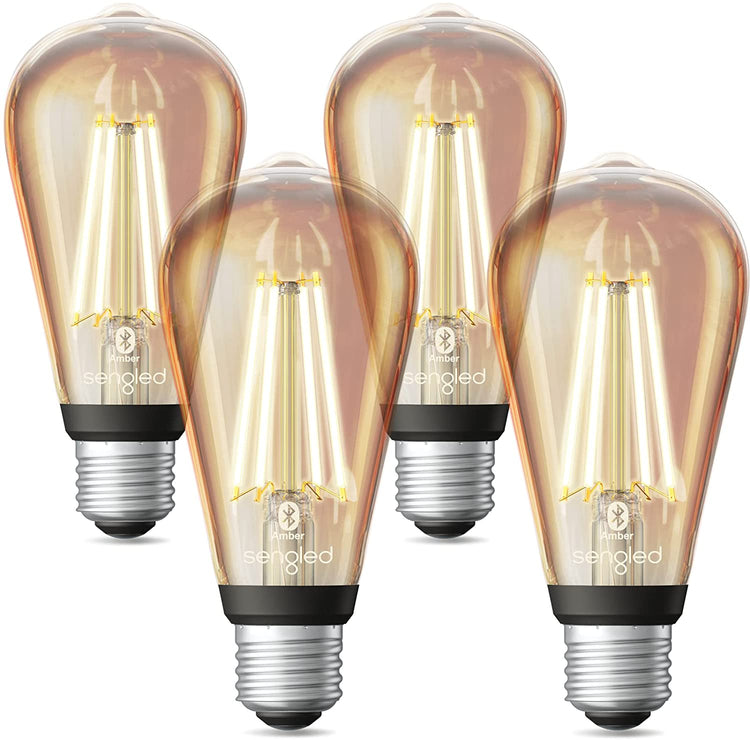 Sengled Smart Bluetooth Mesh Amber Vintage Filament ST19 Bulbs
Voice Control - Sengled Bluetooth st19 edison bulb that works with Alexa, you just need to send voice commands to turn on, off light, or set the alexa light bulb to the right brightness to create a relaxing and comfortable atmosphere. (e.g. Alexa, Turn on the ST19 Sengled smart bulb).

Smart Sengled Home - Control the bulb through the Sengled Bluetooth app (iOS and Android) to manage the dimmable led bulb, including adjusting the brightness, setting schedules, creating scenes, and monitoring energy.

Remote Control - Control your lighting from anywhere. Even if you are not home, you also can remotely control your LED Filament Bulbs turn on/off via Alexa App directly. Smart Edison Bulb Amber White 2000K, provide 600 lumens of soft white light.

Schedule Feature - Easily setup via using Sengled Home App (iOS and Android), turn the smart light bulb on/off, dim retro light bulbs to the desired level, and set up schedules from anywhere. Program timers and routines to automate your entire smart home lighting setup. Control your alexa light bulbs while away from home.