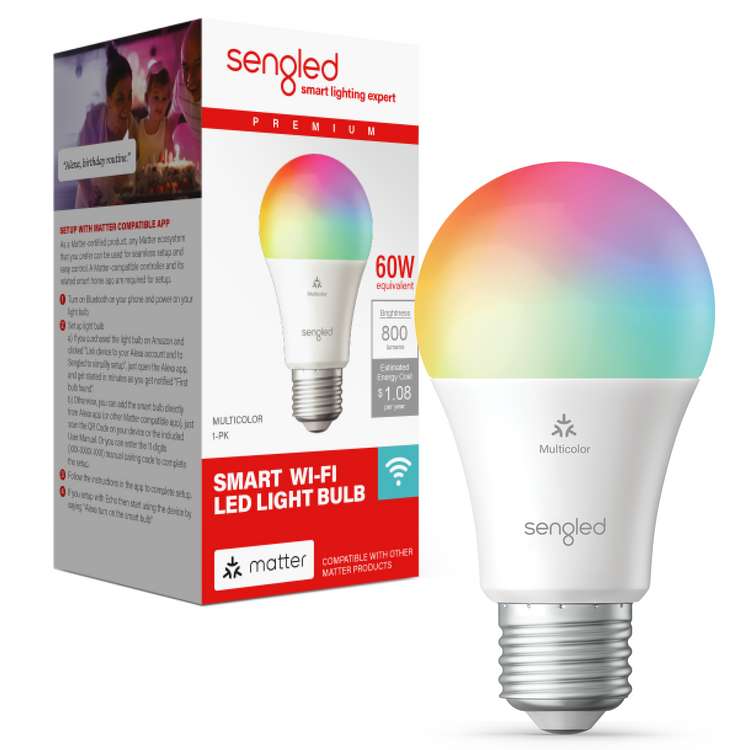 Sengled Smart Wi-Fi Matter LED Multicolor A19 Light Bulb
MATTER UPGRADE WITH FASTER CONNECTIVITY AND INTEROPERABILITY: New to smart home? Set up this bulb and get started with Alexa. Already have a smart home? This bulb easily integrates into your existing setup. Matter represents the industry-unifying standard, and Sengled is one of the first smart lighting companies with a Matter smart light bulb. With Matter, you'll never be limited by a specific platform or required to use multiple apps.
INSTANT PAIRING, SIMPLE SETUP, SECURE CONTROL: For zero touch setup experience, check "Link device to your Amazon account to simplify setup" during checkout. Screw in the light bulb, open the Alexa app, and get started once notified "First light bulb found". Otherwise, you can add the smart bulb directly from the Alexa app. Note: Please ensure you have a Matter-compatible hub, like an Echo device, at home. This bulb can be set up with 2.4GHz Wi-Fi only.
GUARANTEED QUALITY, SEAMLESS INTEGRATION: Sengled uses advanced technology, creating high-quality LED lights that are visually appealing with 16 million brilliant colors. Best-in-class 90 CRI results in true color rendering and representation. The 60-watt equivalent bulb can save up to 80% energy.
HANDS-FREE VOICE OR APP CONTROL: The convenience of smart lighting allows you to use voice commands or a mobile app to easily control the lights, like adjusting brightness or colors, creating groups to control multiple lights at once, and routines to automate your schedules. Use with your compatible Amazon Echo device and the Alexa app.
AWARD-WINNING INNOVATION: From Sengled, the smart lighting expert, we're the proud winner of 17 industry awards, including multiple CES Innovation Awards. As seen in major publications and backed by Sengled's 1,100 global patents and 2-year warranty.