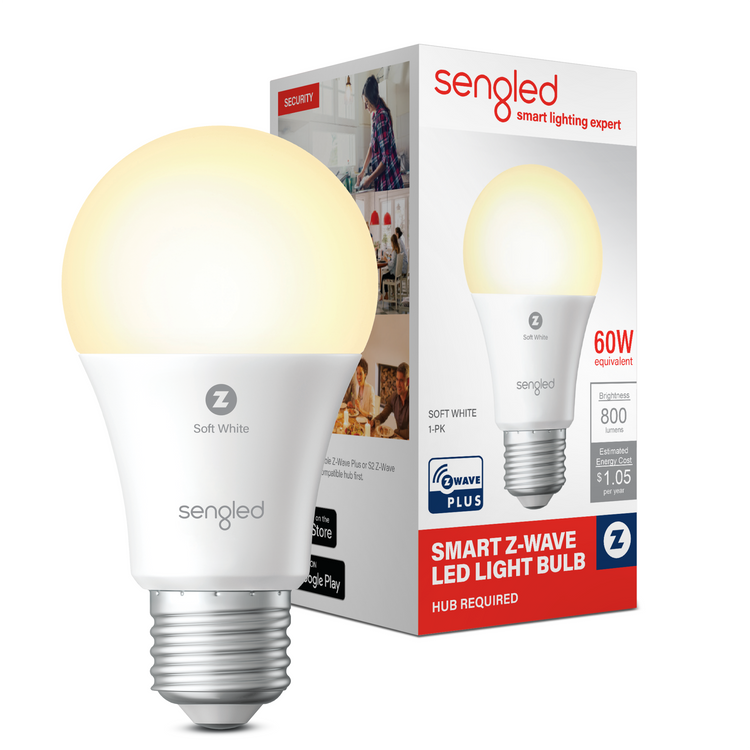 Sengled Smart Z-WAVE Plus LED Soft White A19 Bulb
Z-WAVE Plus™ and S2 Z-WAVE certified products from Sengled, easily added to your existing Z-WAVE smart home, providing the convenience and control of smart lighting functionality and high-quality illumination
•Add Lighting to Your Z-WAVE Smart Home: Illuminate your entire house with up to 232 smart lights and devices using your existing Z-WAVE hub. This is a great option for power users looking to add many products. Once set up, it's easy to control or schedule your lights to set just the right mood in any room.
•Control From Anywhere: Using a Z-WAVE Plus™ or S2 Z-WAVE certified hub and app, you can easily turn your lights on or off and dim or brighten, even when you are away from home.
•Provide Soft Security Features: Create routines to schedule your lights to provide security at night or to illuminate entryways when arriving home after dark.
 •A Welcoming, Comfortable Light: Create a warm ambiance in any room in your house with this soft white, natural 2700K light that provides 800 Lumens and plenty of brightness. It's great for relaxing and perfect for dining rooms, living rooms, bedrooms, and more.