5 Signs It's Time to Upgrade Your (un) Smart Home
by Megan Johnson / May 23, 2018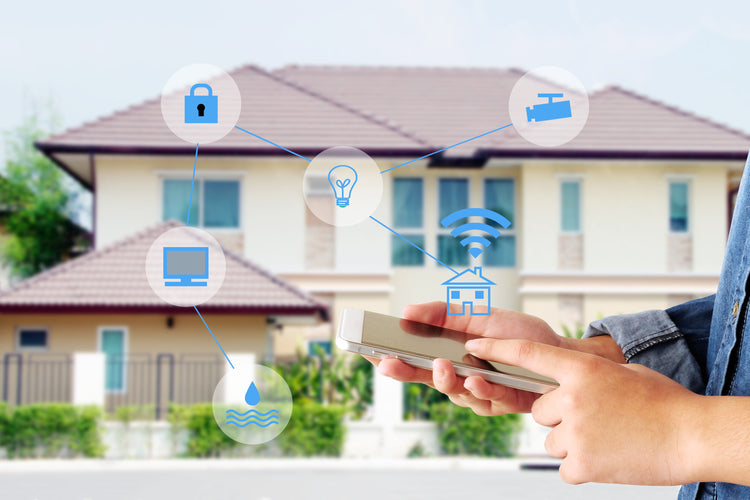 So maybe you've been on the fence about whether or not joining the smart home revolution makes sense for you and your family, but now that summer is around the corner, you're itching to explore some simple and affordable upgrade options. No problem - we drafted five common scenarios, and some quick DIY options, that will make it even easier to dip your toes into the smart home waters:
Nighttime has become your nemesis. 
If you have an infant or young child in the house, nighttime can be a struggle. Maybe you're spending hours trying to soothe a fussy baby to sleep, being convinced to stay "just a minute longer" to keep the bogeyman at bay, or maybe you've just stepped on one too many "Lego landmines" scattered across the floor in the dark. OUCH! 
Element can throw you a life vest. With soft, dimmable light you can adjust instantly from your mobile phone, Element smart lighting provides the soothing environment needed to lull a sleepy baby back to sleep. Or, gently brighten the light to illuminate any barefoot hazards as you walk quietly away from your sleeping kin. If falling asleep to dim light adds a layer of comfort, the scheduling feature makes it easy to ensure lights turn off automatically after kids are sound asleep.
There's been suspicious activity in the neighborhood. Some of your neighbors have seen a strange car cruising around at dusk, and it has them all on edge. Another neighbor says his garbage cans were knocked over and he's sure he saw flashlights in the trees bordering his property. All this, just as your family is getting ready to head away on vacation. In this situation, a couple of quick smart home upgrades can help put your mind at ease. First, add a Smartsense motion-detecting bulb to illuminate the backyard, garage or other entry points whenever motion is detected. Simply shedding light on suspicious activity can be a strong deterrent to would-be vandals. Next, install programmable Element bulbs throughout the house to create the illusion that you are home while away. With Element, you can set the lights to come on and off during your normal routine, so unwanted guests will have no idea that you're gone. For further peace of mind, install a discreet Snap HD security camera bulb to receive a live video feed to your mobile device from anywhere. Create motion zones to receive alerts any time activity is detected, so you know instantly whether there's reason for concern.
You're tripping over cords at every turn. With so many streaming entertainment options, it's no surprise your home has become a cord clutter nightmare. Surround sound speakers in the family room, Bluetooth speakers in each of the kids' rooms…and their charging cords always seem to mysteriously disappear—never where they think they left them. Put an end to cord clutter with Solo Color Plus, a high-efficiency LED bulb with built-in wireless speakers that now includes color-changing light capabilities. Simply install the bulb in any standard light socket and enjoy high-quality audio with customizable color for an instant dance-party anytime, anywhere. The fun Rhythm Mode changes light colors to the beat of the music, and Bluetooth technology ensures connectivity with virtually any mobile device. And, because Solo Color Plus doubles as a lightbulb, it's always twisted in to a socket, so there's never a need for charging. That means no more lost cords!
Your sleep schedule is out of whack. Getting plenty of quality rest is critical for overall health, alertness and mood. If someone in your household struggles with insomnia, or has trouble waking up in the morning, you know how much sleep—or lack thereof—can impact everyone. Adding color-changing lights to your home can help your entire family fall asleep faster and wake feeling refreshed and ready to take on the day. With Element Color Plus, you can create the perfect atmosphere to reset your internal clock and get a better sleep experience. For evening, program bulbs to dim to warm, muted colors that signal your body that it's time to wind down and prepare for rest. For morning, program a routine that gradually brightens the lights with shades of orange and pink to mimic a sunrise, making wake up time more natural and enjoyable.
The kids are becoming more independent. When they were little, it was easy to keep tabs on everyone—they were either with you or in the care of a trusted adult. But, as they get older and more independent, they may be on their own going to and from school, activities, or spending more time home alone. But you still want to make sure they're safe and accounted for, right? Installing a Snap camera bulb at the door is a simple and reliable way to make sure kids make it home safely after school or summer camp, or that your high schooler is being the responsible young man or woman you'd expect. With Snap's live video feed, you can check your mobile device at typical arrival times and ensure everyone is safe, or receive motion alerts so you can verify whether it's your kids, friends, or a stranger at the door. You can be the discreet fly on the wall from anywhere, all by changing a lightbulb.
Making your home more smart, simple and secure doesn't have to be difficult or costly. Because these upgrades are as easy as twisting in a lightbulb, your next smart home upgrade won't take time or money away from your fun summer plans.