3 Easy Ways to Keep Your Home Safe this Summer
by Megan Johnson / Jun 23, 2017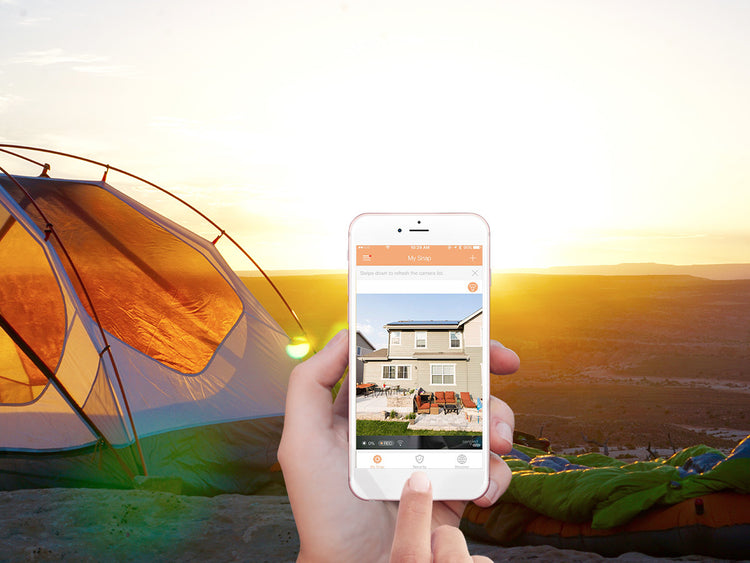 More than a third of Americans will take a family vacation this year, and while they're out enjoying the beach, amusement parks or camping, their home is left unattended. Not to mention the increasing number of children left home alone while parents are at work, summer is a great time to check in on home safety.
Smart home technology can help provide peace of mind while you're out enjoying all the activities summer has to offer, and help maintain your home as a safe haven for children left home alone. There are a number of smart products that are easy to install that don't break the bank, making smart home safety a no-brainer.
In honor of National Safety Month, here are a couple tips for added peace of mind:
Install a security camera. Keep an eye on your home from your beach or office chair by installing cameras that send real-time video directly to your mobile device. Snap Security floodlight features a built-in camera, making installation as simple as screwing in a lightbulb. It connects to your home router and the weatherproof shell is perfect for outdoor entryways, patios and backyards. It's also great for keeping an eye on kids or pets playing inside. Check to see who's knocking at the door or that your children are safe from anywhere. 
Add emergency lighting. An unexpected power outage due to summer thunderstorms can turn even the safest home into a black hole, full of tripping hazards and frightened children. Never be left fumbling for flashlights again with Everbright backup battery bulb. Twist into standard light sockets and whenever power is lost, enjoy 3.5 hours of automatic, convenient illumination. Breakout the board games!
Secure the perimeter. Motion-detecting lights add convenience and security to your home's exterior. Not only do they eliminate fumbling for keys in the dark and help navigate backyards when relieving pets, they're also a deterrent for thieves and vandals. Smartsense motion-detection lightbulb offers a built-in sensor, helping turn any ordinary fixture into a motion-detecting security light without the wiring or added cost. It's really that simple!
Your home should be a haven. Following these smart, simple and affordable tips can help ensure your home is safe and secure this summer and beyond, both when you're there, and when you're away.