Introducing Sengled Smart Bluetooth Mesh Retrofit Downlights
by Sengled USA / May 24, 2022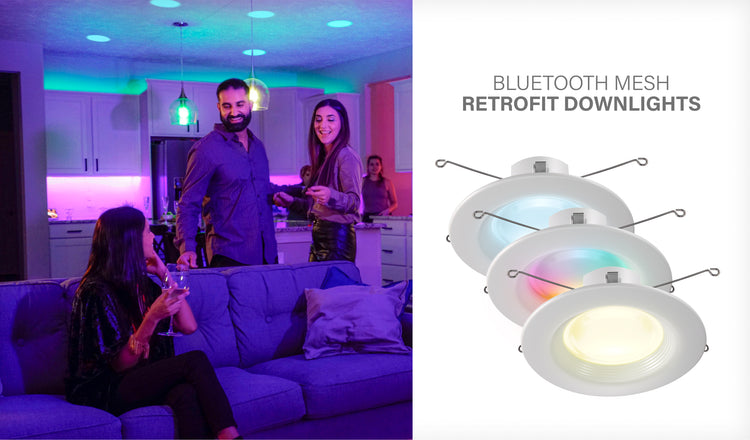 Introducing Sengled Smart Bluetooth Mesh Retrofit Downlights
Sengled is excited to announce the launch of our Bluetooth Mesh Retrofit Downlights! With all the benefits of Sengled's Bluetooth Mesh smart lights and the look of traditional retrofit downlighting, this product is just what you need to give your ceiling lights a refresh. The integrated LED baffle trim provides a tight seal with a seamless look that blends into the ceiling, bringing new life to old, discolored fixtures.

Install easily into your existing downlight fixture without rewiring
These retrofit downlights fit your existing 5- or 6-inch recessed can fixtures. Simple setup with Alexa—just say, "Alexa discover my devices." Then remove your old trim, place spring or shrapnel in position according to your can size, twist our retrofit downlights into the existing socket, and snap in place. Because these lights come with standard E26 bases, no rewiring is needed!
Sengled Bluetooth Mesh Retrofit Downlight comes with a standard E26 base that twists into your existing socket.
Whole-Home Smart Lighting
Bluetooth Low Energy (BLE) Mesh 5.0 wireless technology allows for a farther reach. Each light serves as a signal repeater, so even if a Bluetooth light is out of reach from the Alexa Echo device, it can still be controlled.
Sengled Bluetooth Mesh Downlights work with other Sengled Bluetooth products—expanding your signal from one end of your home to the other.
Three Exceptionally Bright Choices
Sengled Smart Bluetooth Mesh Retrofit Downlights are available in 75W Equivalent Multicolor, Soft White, and Daylight—perfect for any room in your home.