Level-Up Your Holiday Lighting with Bluetooth Mesh to Reach Every Corner of the House
by Sengled / Nov 23, 2021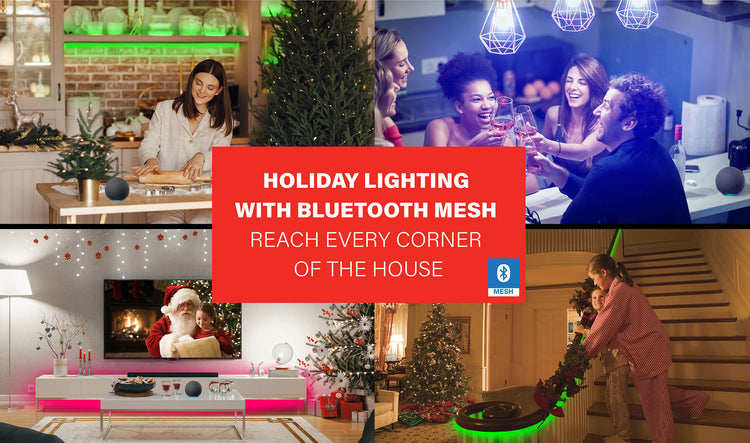 Setup and Control is Simple Using One of Today's Go-To Technologies   
The holiday season is here, and it's time to decorate your house. This year, add simplicity and convenience to your lighting game by taking advantage of Bluetooth Mesh technology. (Learn how to receive a free Bluetooth Mesh bulb at the end of this article.) 
A Bit of History
Ubiquitous today, Bluetooth, in name, harkens back to the 10th century ruler of Norway and Denmark, King Harald Gormsson. Nicknamed "Bluetooth," he's credited with bringing together various clans. Since the goal of the technology, developed nearly ten centuries later, was to connect multiple devices using a simple platform, the reference was a perfect fit, and Bluetooth was born. 
The Advantages of Bluetooth Mesh Lighting
Let's jump back to the 21st century. You've likely run into lighting control issues within your home, especially when adding lights during the holiday season. Rest assured. Bluetooth is the perfect solution. 
Reach – Utilizing what's known as mesh networking, Bluetooth Mesh uses multiple devices (hubs, lights, etc.) to envelop a local area, meaning you'll have connectivity in every corner of your home.
Control and Simplicity – Sengled Bluetooth Mesh lighting can be setup and controlled using the Alexa app or compatible Echo device, offering a quick, convenient, plug-and-play experience. You can even control non-smart lighting by using a Sengled Bluetooth Mesh Smart Plug.
Multicolor –

 

Multicolor Bluetooth Mesh bulbs and

 

light strips provide ease-of-use and various color options, perfect when you want to match the ambiance to a particular celebration or mood. 
Pro Tip: BLE refers to Bluetooth Low Energy. While this may sound underwhelming, "low" refers to it requiring less power and cost. Unless you're well-studied in the science and engineering behind wireless technology, Bluetooth and BLE are interchangeable.   
Deck the Halls with These Bluetooth Lighting Ideas
Place multicolor lights in your windows and program them to alternate between green and red.
Like garland, place light strips along the staircase handrail and fireplace to enhance your holiday lighting.
Program a routine so your favorite festive lighting is activated when the ball drops on New Year's Eve. 
Want to jump into the holiday fun and add smart multicolor Bluetooth lighting to your home? Get a Sengled Smart Bluetooth Mesh LED Multicolor A19 bulb free with your purchase of an Echo Dot Gen 3 and Echo Dot Gen 4 from Best Buy. This offer is valid from 11/16/2021 – 12/5/2021. More details here.