Five Must-Watch Christmas Movies Made Better by Audio-Sync TV Lighting
by Sengled / Dec 11, 2021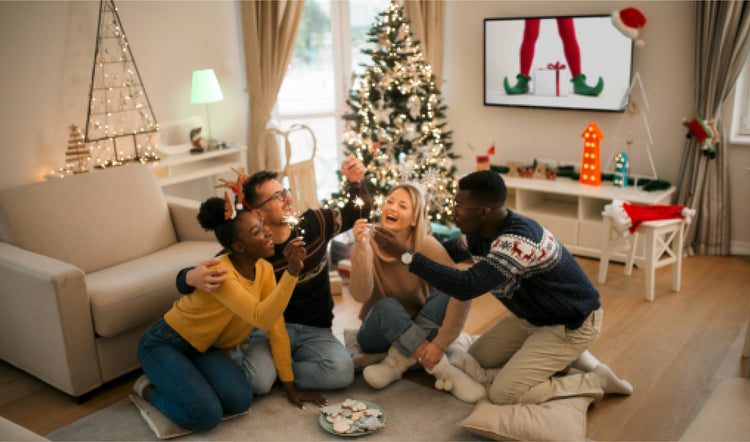 Upgrade Your Living Room or Home Theater with Smart, Multicolor Strip Lighting That Reacts with What's Playing
You're nestled all snug on the couch watching the movie Elf. It's that climactic scene. They're trying to get Santa's sleigh to fly, powered by the Christmas spirit. As the crowd gathers and the singing grows to a crescendo, the reindeer burst through the air as a melodic, dreamlike song of inspiration blasts through the speakers. And, if your TV is equipped with Sengled Smart Wi-Fi TV Light Strips with audio-sync, that moment will feel even more magical. 
What is audio-sync?
Powered by a built-in microphone, the audio-sync feature on strip lighting will coordinate your lighting with sound. In the above example, as the movie audio gets louder, the lights will get brighter to help heighten what's happening on-screen. Audio-sync reacts similarly when listening to music or playing video games.
What are the best Christmas movies to watch with this lighting?
To help you take advantage of this cool lighting feature, we've listed the top five Christmas movies you'll enjoy even more when using it. Since Elf was already mentioned, it's been excluded from this list, but ranks high.

Did you know? This popular genre of entertainment dates back to the 1898 British short film Santa Claus. Run time: 75 seconds. No popcorn needed. https://www.vulture.com/article/best-christmas-movies.html
National Lampoon's Christmas Vacation – One of the many selections seemingly on repeat immediately following Thanksgiving, you can't go wrong with this Chevy Chase classic. A star-studded cast join Chase, including the likes of Johnny Galecki, Beverly D'Angelo, Julia Louis-Dreyfus, and, of course, Randy Quaid as Cousin Eddie. This movie makes the list because our TV lighting will leave you in awe during the "lighting of the house" scene. The laughs as Clark struggles getting the thousands and thousands of bulbs in place. The disappointment when he can't get them to turn on. Then, the pure jubilation as the blinding illumination fills the screen. It's truly sensational.
A Christmas Story – We'll admit right up front: this movie made the list for its iconic lighting apparatus: The Leg Lamp. It's one of the most recognizable movie props of all time, right up there with the Lightsaber, the hoverboard, and Harry Potter's magic wand. Not to mention one of the most iconic scenes in a movie full of iconic scenes (if you utter "FRA-GEE-LAY" every time you see the "Italian" word "fragile," you get it). So, as a lighting company, we're a bit biased, but how could we not give a shout out to The Leg Lamp.
Pro tip: You may have one of these lamps in your house during the holidays. Try a Sengled Smart Bluetooth Mesh multicolor bulb (get one free with your purchase of an Echo Dot Gen 3 and Echo Dot Gen 4 from Best Buy or Amazon. This offer is valid from 11/16/2021 – 12/30/2021). Plug & play setup with Alexa, and control with your voice or via the Alexa app. Change the color to add a festive look.
It's a Wonderful Life – Not only a holiday classic, but it's also considered one of the greatest movies of all time. It received five Academy Awards nominations, including Best Picture, not common for a category that can sometimes be referred to as "corny Christmas movies." This one made the list for two reasons. First, considering it's a black-and-white film, our strip lights will perfectly complement with just the right amount of subtle coloring. Second, that scene on the bridge with Jimmy Stewart. He's realized it truly is a wonderful life, and he's pleading to have it all back. It's an emotional moment with some great, memorable bursts of dialog acted perfectly by Stewart with a lot of joyful shouting.
Die Hard – While the debate continues as to whether this is even a Christmas movie, we won't pass up the chance to take advantage of one of the greatest action films of all time, perfectly suited with loud crashes, gun fire, and plenty of yelling and screaming to get those audio-sync lights fully activated. Case closed.
The Polar Express – Tom Hanks playing seven different roles in this heartwarming, adventurous, animated journey to the North Pole is reason enough to make it a great movie. But, what's the connection to home theater enhancing lighting. Maybe it's the scene where the boy finds himself trapped on top of the train as it's rushing through the mountains. Or the scene where the train screeches to a halt, stopping inches from a herd of nonplussed caribou.
Pro tip: Sengled smart lighting is so helpful when it comes to so many holiday lighting issues around the house. For instance, if you are tired of crawling under the Christmas tree every day to plug and unplug it into the wall, try one of our smart plugs, easily controllable via voice or app.

In addition, if you use candle lighting throughout the house, like on multiple window ledges, upstairs and down, you'll find our smart Wi-Fi LED candle filament bulbs a great option. Finally, the Sengled Home app has a special Christmas Light Effects setting that alternates between red and green when selected.