A Major Milestone: 10 Years of Award-Winning Smart Lighting
by Sengled USA / Jan 24, 2022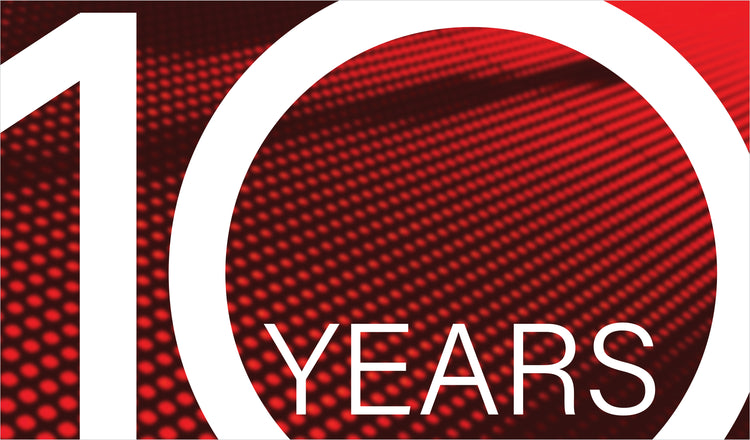 Sengled, the smart lighting expert, celebrates a decade of innovation and illumination
It's confetti time around the Sengled campus in Georgia: 2022 marks our 10-year anniversary of smart lighting.

Looking back, it's amazing how far we've come and everything that's transpired in the past decade. What started with the launch of our first smart speaker bulb in 2012 has evolved into an award-winning, industry leading smart lighting expert. We've won 16 Innovation Awards, including CES recognition annually since 2015. Earlier this year, we picked up our 10th CES award. Ten awards in 10 years: a great accomplishment.

How did we get here? We value innovation, design, and craftsmanship. We believe the lightbulb can be continuously reinvented to make life better. Our products are meticulously crafted to ensure quality, and designed to be visually appealing, functional, and easy to use. Sengled bulbs look great and are built to last. Easy. Versatile. Brilliant. That's how we get it done every day.

 2012: A trip down memory lane 
Gangnam Style became the biggest one-hit-wonder of the decade…maybe the century. The fun pop song by South Korean singer Psy absolutely overtook the airwaves and the internet, at one point being recognized by Guinness World Records as the most liked video on YouTube.
Along the way, we've hit a few other key milestones in our company's history.

2014 – Launched our hub-based smart lighting line, which today allows you to illuminate your entire home with up to 64 smart lights and devices using our Zigbee Smart Hub. This is a great option for power users looking to add many products from the smart light experts.

2018 – Added Wi-Fi to product offerings, a great option for people new to smart lighting: no hub required. Once set up utilizing your existing home Wi-Fi network, it's easy to control or schedule your lights to create just the right mood in any room.

2020 – Added Bluetooth Mesh technology, allowing you to reach every corner of your home with smart lighting using this ubiquitous technology. Setup is a breeze with the Alexa app or compatible Echo device, offering a convenient, plug-and-play experience that provides voice-control functionality. 
Leveraging those important moments, a few hundred thousand hours of hard work, and a team spirit dedicated innovation, we boast a large portfolio of high-quality products at an affordable price. 
Light Bulbs – As smart lighting experts, we've developed our high quality, brilliant lighting to give new life to all your favorite lamps and light fixtures.

Light Strips – Perfect for adding accent lighting or color to any room, this easy to install, versatile product is a great option for unique locations like under kitchen cabinets, bordering TVs, or lining a fireplace mantle.

Starter Kits – With everything you need for your smart lighting journey, starter kits include a Zigbee smart hub and lights. It's a great option for those looking to illuminate the entire home with connected, easily controlled products.

Accessories – Utilizing the technology behind our smart lighting expertise, these accessories provide convenience, control, and safety in products like smart plugs, smart switches, and smart window and door sensors.

 2012: A trip down memory lane The 2012 Olympic Summer Games was dominated by U.S. swimmer Michael Phelps. He picked up six medals in London, making him the most decorated Olympian of all time.
More about our company 

In addition to milestones and product development, we're all about technology. As noted above, we offer flexible connectivity options via Zigbee, Wi-Fi, and Bluetooth Mesh. We also seamlessly integrate with popular smart home platforms, including Amazon Alexa, Google Assistant, Apple HomeKit, and Samsung SmartThings. Sengled smart lighting is easy to set-up, offers intuitive, convenient control and functionality, and is secured with end-to-end 256-bit encryption. In addition, utilizing the latest in lighting science, most of our products have a Color Rendering Index (CRI) of 90-plus, providing a high-quality, bright light that brings out impactful, natural colors. 

We provide U.S.-based customer support. We're here for you, whether you're new to smart lighting or a seasoned pro, our customer service team, located in Georgia, is available to provide best-in-class support to answer your questions and help ensure a great lighting experience.

The next 10 years: a look ahead
While we don't want to give away all of our secrets, we do have a promise to customers. Sengled will continue to innovate, remaining at the forefront of the industry to ensure that we're providing the very best products to make your life better. As the smart lighting expert, we're committed to finding new ways to enhance home illumination, focusing on the highest quality construction and intuitive, convenient products. 
2012: A (final) trip down memory lane
The big screen hit of the year was The Hunger Games, a science fiction action film based on the novel of the same name. Set in a future, post-apocalyptic world, the movie revolves around a battle-to-the-death competition and proved to be a breakout performance for Jennifer Lawrence.