The Biggest CES 2022 Smart Home Announcements from Sengled
by Sengled USA / Jan 05, 2022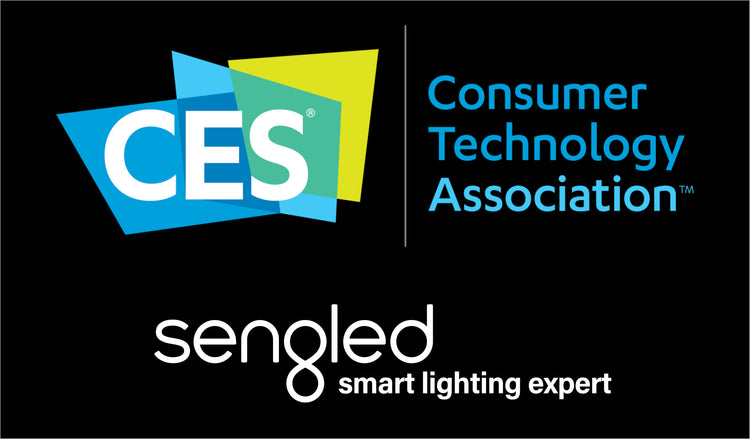 All the new products and enhancements for an even better user experience

  
This week, the entire consumer electronics industry will converge on Las Vegas for the biggest show of the year: CES 2022. As in years past, Sengled will be on-hand showcasing our latest product innovations and all the great smart lighting products we'll launch later this year. Read on to learn more about some of the best smart home products in 2022.
CES Innovation Award Honoree for Smart Lighting
Sengled has once again been recognized as a leader in the smart lighting industry, picking up our 10th CES Innovation Award. These awards honor outstanding design and engineering in consumer technology products and are announced annually as part of the event. The program recognizes honorees in a multitude of categories, judged by highly respected experts from various fields, including members of the media.
DID YOU KNOW: 2022 is a milestone for Sengled. We're celebrating our 10th year in smart lighting. To learn more about our first decade in the industry, stay tuned for another article at the end of January.
We earned this year's award for a product targeted to launch in the fourth quarter: our Smart Health Monitoring Light. Featuring a Wi-Fi, Bluetooth Mesh dual chip, the bulb will provide a number of features, including biometric measurement tracking of heart rate, body temperature, and other vital signs, as well as sleep tracking. By connecting multiple bulbs via Bluetooth Mesh and creating a virtual map across your home, this product can even help detect human behavior and determine if someone has fallen and then send for help.

With this bulb, Sengled is taking smart lighting into uncharted territory with built-in health monitoring technology. In addition, another benefit of the dual chip is that no hub is needed. 
2022 Product Focus: Entertainment Lighting
More news coming out of CES will center around Sengled's entertainment lighting product focus this year.

One of those products is Sengled's Wi-Fi Video-Sync TV Light Strips. These lights provide an engaging and immersive effect that extends what is showing on your TV to the wall behind it, delivering the ultimate entertainment experience. The lights will react to any content, regardless of the source input, including streaming services, gaming systems, traditional cable, and DVDs, matching the colors from different areas of the screen to sections of the LED strips.


Side-note: If you are interested in additional TV-related lighting, be sure to check out two existing Sengled products: Audio-Sync TV Light Strips and LED Light Bars.
To meet the growing demand for outdoor entertainment lighting, Sengled will offer a new Wi-Fi Outdoor String Light. The product, perfect for outdoor patios, gardens, and other spaces, is 48-feet long and each bulb can be customized to a different color from millions of combinations to help set the perfect mood.
Finally, the company plans to also add a Wi-Fi Portable Lamp. Powered by a rechargeable internal battery, the lamp can be moved easily to wherever lighting is needed, and offers a range of functionality including dimming, color changing, or flickering candlelight effects.

Sengled is dedicated to providing the very best lighting that will improve people's everyday lives and special occasions. Whether you are enhancing a movie or gaming experience or impressing your guests with a breathtaking outdoor setting, our products can provide that and much more.

Other products to be released later this year include a Wi-Fi LED Essential Oil Diffuser Light, a Zigbee Window and Door Sensor, a Zigbee Motion Sensor, and the CES Innovation Award Honoree Smart Health Monitoring Light (mentioned above).
DID YOU KNOW: The first CES took place in New York City in June 1967. Since then, thousands of products have been announced at the yearly show, including many that have transformed our lives, for example: the VCR (1970), HD TV (1998), Smart Appliances (2011).
Partners and Connectivity Options
Finally, we'll also be announcing enhancements that will provide an even better experience for smart lighting users.
First, the company will begin offering Matter compatibility in Q2 this year. Sengled has been collaborating with the Amazon Alexa and Google teams on this industry-wide initiative. As the next step in the connectivity protocol journey,
Matter will help simplify the ever-growing ecosystem of smart products, including lighting
.
Second, until Matter officially launches later in 2022, Sengled is adding Google Assistant support to Sengled's current Bluetooth Low Energy (BLE) Mesh lighting products in the first half of the year. BLE Mesh smart lighting from Sengled allows customers to reach every corner of their home and is easy to set up. The addition of Google Assistant integration adds to the existing Amazon Alexa and Echo device compatibility on
Sengled Bluetooth Mesh
devices.
By continually
increasing our product offerings
across various connectivity protocols and partner technologies, Sengled is able to be the brand of choice for every smart lighting situation.