How to Decorate a Room for Valentine's Day Using Smart Lighting
by Sengled / Feb 07, 2022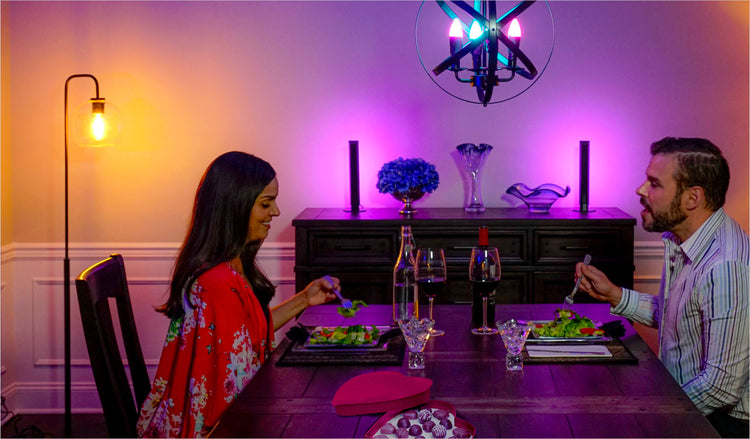 Use these tips to set the mood for any romantic occasion
Valentine's Day is just around the corner, and what better way to create an unforgettable occasion than wowing your significant other by setting the perfect scene. Here are four tips on how to use lighting to decorate for a romantic night.

Before we get into that, you might be wondering "why is Valentine's Day celebrated in the first place?" While it's highly recommended you do NOT ask that question of your partner on that special day, we thought it best to give you a bit of background here.
Fun Fact: Fan of the TV show Parks and Recreation? Then you're likely familiar with the spinoff holiday Galentine's Day, celebrated one day earlier on February 13. It's a day reserved for women to shower their best friends with love and attention.
The History of Valentine's Day
Turns out the origin of Valentine's Day is up for debate, as well as which saint the holiday is named after. Keep in mind, the date is also known as Saint Valentine's Day as well as the Feast of Saint Valentine.

Whichever version of the tale you believe, it appears to be shrouded in darkness. Three of the stories revolve around harsh treatment during ancient Roman times—two executions and one prisoner—and all have the element of love.

For instance, a priest (presumed to be Saint Valentine) defied Emperor Claudius' order that young men not be allowed to marry. The emperor believed this would make them better soldiers. The priest decided to let love rule and continued performing nuptials. He was put to death.

Despite the murky facts, the traditions of the holiday date back some two thousand years. The oldest written valentine message that still exists today was a poem written in 1415 by the Duke of Orleans while imprisoned in the Tower of London. This missive to his wife is now part of the collection at the national British Library.
Fun Fact: Cupid, the mischievous, chubby, child-like winged fairy, dates back to Greek mythology. While today we think of his golden arrows of love, Eros, the Greek god of love and inspiration to today's light-hearted Cupid, could also use lead arrows to make people dislike each other.
Celebrating in the 21st Century
Today, the occasion is marked by gifts, romantic dinners, and handwritten valentine messages. And, of course, flowers.

However you choose to celebrate, one way to make it a memorable day is to help set the perfect scene with smart lighting. Here are four ideas:

• Everyday Smart Lighting Features—Sengled smart lights offer customers convenience, control, and brilliant lighting. So, simply utilizing some of the basic features will have an impact on your day. For instance, lights can be controlled hands-free with voice or via a mobile app, allowing you to turn lights on and off, dim, brighten, and even select up to 16 million colors. So, set your lights to red and dim them a bit to set the perfect mood for a romantic dinner or movie night. Or, schedule the lights to change at a certain time or with a certain voice prompt. Smart lighting options are endless.

• Candle Bulbs are a Must—Sengled's E12 Multicolor Candelabra bulbs or our Vintage Edison bulbs provide flexibility in your lighting options and they look great in light fixtures where the device is exposed. The timeless, rustic look of the Edison bulb creates a comfortable setting, the perfect ambiance for a romantic evening. The Candelabra bulbs are perfect for chandeliers and other candle-like, decorative lights, and can be tuned to any color.

• Create a Unique Look with Light Strips—These lights are very popular for a reason: versatile, easy to use, high-quality illumination that can be placed almost anywhere. Line walls and ceilings, place them under furniture or up a set of stairs—you can get really creative with light strips, placing them in alcoves to provide additional accenting or even behind a large picture frame to intensify artwork or a photo of the happy couple.
• Enhance Romantic Movies—Another use for light strips is placing them on the back of a TV. Sengled's Audio-Sync Light Strips offer all the great functionality of regular light strips but include a microphone that pics up the audio coming from your TV or computer and syncs the light with the sound. It's a great way to make home entertainment even better and will certainly impress your significant other while watching a romantic movie. These Light Bars are another great option. They can also be used as back lighting and accent lighting for TVs or to set the perfect mood in any room.


Fun Fact: Al Capone, not known for his soft side, has a unique connection to the holiday. His Chicago outfit is suspected of ordering the St. Valentine's Day Massacre in 1929. The one-sided shootout was against a rival bootlegging gang. No one was ever prosecuted.
We hope you find these lighting tips helpful. Whether you are celebrating Valentine's or Galentine's Day, or neither, we're sure you'll get a lot of use out of your smart lights.